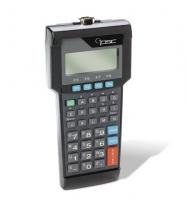 PSC PT 2000 Wireless Barcode Scanner
PT 2000 Portable, Flexible Data Collection.
Small and lightweight, the PT 2000 is your answer to portable data collection. Its convenient size fits comfortably in your hand. Better yet, it weighs only 12 oz. (360 grams) including batteries! And it's loaded with all the features you require in a portable. The PT 2000 gives you the flexibility to choose the appropriate input device for your application, whether it s a wand, CCD, 5V laser, or I.D. Badge scanner. Its four-line by 16-character LCD display provides easy readability and 34 splash- resistant alphanumeric keys, including four programmable keys, give you the option of keying in data.
In addition, the PT 2000 offers up to two megabytes of data storage, making even your largest applications portable. Three AA alkaline or a rechargeable Nicad battery pack power your PT 2000 for up to 12 hours of continuous use (20,000 scans with a 5V laser or CCD). Should your batteries fail, a lithium backup battery is built into the unit for up to 10 days of memory storage.