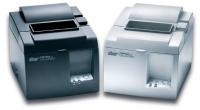 Star TSP100 Point of Sale Printer
High Performance, Dot Matrix Receipt Printer.
TSP100 Consist in Fully Loaded, Internal Universal Power supply, Drop in and print, Auto install Drivers, Digitally Signed by Microsoft, Complete Software Solutions. Ideal for: Update & Replace any exisiting text field, Crop Your receipt and remove white space, Logos add any number of logos or coupons, Redesign Improve the lock of your receipt: add watermarks and reduce margins, add coupons based on text keys. All updates can be viewed on an onscreen print preview.
The TSP100 FuturePRNT comes with a cd incuding all drivers (Win9x, Win2k, XP, MAC OSX, Linux, JAVAPOS, OPOPOS)Insert the CD or plug the printer in the installation happens automatically.No more power supply bricks to purchase. it is already included interlally in the printer.