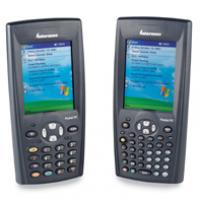 Intermec 761B Data Terminal
Highly configurable and upgradeable, allowing up to 3 integrated wireless communication o.
741B/751B/761B COLOR MOBILE COMPUTER.
Rugged Enterprise Mobility Whether on the road, in the ield, or on the factory floor, mobile workers de­mand rugged, reliable tools to do their jobs. Bringing updated technologies to the front­line worker, Designed from the ground up for use in harsh environments, the 700 device can withstand multiple 6­ft. (1.5 m) drops to concrete and is sealed against rain and dust. The ergonomic case design is sculpted and balanced, maximizing user comfort during long­term use. Radio and scanner options are integrated, not add­ons, which means they are tested to the same rug­gedness standards, and don't compro­mise the environmental or functional characteristics of the unit. Scaleable, Comprehensive Package In addition to the large, brilliant color display, Intel XScale processor, and Microsoft Windows Mobile for Pocket PC, the 700 Series' customer conigurable design allows the inte­gration of up to three radios (WLAN, WWAN, Bluetooth) in a single device. On­board wired Ethernet is standard on the 700 Series, and unlike many competitive devices, true Ethernet speeds are maintained. In addition, the built­in Flash ROM folder allows per ­manent storage of applications, drivers and start­up iles on Inon­volatile flash memory. In addition, Intermec's Readi­SM Care Deployment Services provide.WWAN activation, provisioning and logistics control so that the 700 Series customer is up and productive "right out of the box". Data Collection Ofering both laser and imaging scanning options, Intermec's imaging technologies further enable device capabilities by enabling: omni­directional decoding ­ eliminating the need to line up the scan beam perpendicula to the bars ; image capture ­ allowing for the storage of black and white photographs and signatures for ap­ plications such as proof of delivery, market surveys and ield inspections; as well as decoding standard linear 1D, 2D matrix, stacked and composite barcodes.