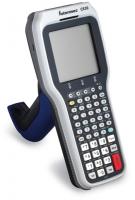 Intermec CK30 Terminal
An optional User-Installable and Removable Pistol Grip Handle is Ideal for Highly Repetit.
The Intermec CK30 mobile data collection terminal continues the tradition of delivering on Intermec's promise of rugged, reliable computing that will position your enterprise for the future with a combination of best­in­class features and functionality, such as thoughtful ergonomic design and integrated imaging options. With an unparalleled capability to perform legacy applications, the CK30 gives your enterprise investment insurance because it is the ideal bridge between the technologies you're using today and what you will need tomorrow. The CK30 delivers the right blend of features and performance with the Microsoft® Windows® CE .NET operating system, designed to provide the optimum combination of real time operation, tools support and standard connectivity available today for battery driven, mobile data collection devices.The CE .NET operating system minimizes memory requirements, reduces complexity and allows the application developer to completely customize the user interface that is appropriate or esirable. CE .NET also supports mainstream application development tools for starting from scratch or upgrading existing applications. For client applications, the forward­looking .NET Compact Framework and Visual Studio.NET development tools will minimize any modiications between diferent .NET devices that might otherwise be required, including the Intermec® 700 Series Pocket PC mobile computer. With CE .NET, Intermec has added features to the CK30 that enhance mobile data collection such as a simpliied menu system tailored for key­based devices, display icons to provide intuitive, graphic­based status information to the operator and a data server for editing, iltering and routing to save programming time. The Intel® XScale™ processor, running up to 400 MHz, provides more than enough power to drive the bright color display, a range of peripherals, repetitive scanning and wireless network traic. It delivers the level of response time and throughput required for real time, mission­critical applications in warehousing, distribution, manufacturing operations and retail instore management.