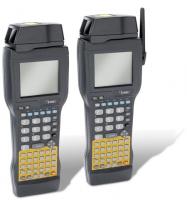 PSC Falcon 320 Wireless Barcode Scanner
Portable Data Collection Terminal Solution.
Fast, accurate, customizable real time Automatic Data Collection–this is the need of today s businesses striving for greater efficiency, productivity and cost-effectiveness. The Falcon series 320/325 by PSC is the answer. Open standards, powerful applications and ease of use allow these portable data collection terminals to integrate seamlessly into the supply chain of companies involved in logistics, manufacturing, retail, warehousing and distribution.
Rugged enough for the warehouse, but ergonomically designed for ease of use, the Falcon 320 and 325 offer a 16-line screen, 486-class processor, 33 MHz operating speed, integrated scanning, and a user-accessible PC Card slot. Their open architecture affords easy application development. And the Falcon 325 is available with PowerNet Twin Client to support VT100, VT220, HP700/92, IBM 3270 and 5250 terminal emulations, with screen formatter, allowing swift and simple integration into your existing legacy system.