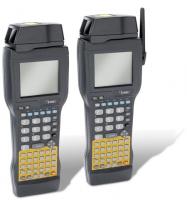 PSC Falcon 325 Wireless Barcode Scanner
Portable Data Collection Terminal Solution.
Fast, accurate, customizable real time Automatic Data Collection–this is the need of today s businesses striving for greater efficiency, productivity and cost-effectiveness. The Falcon series 320/325 by PSC is the answer. Open standards, powerful applications and ease of use allow these portable data collection terminals to integrate seamlessly into the supply chain of companies involved in logistics, manufacturing, retail, warehousing and distribution.
While the Falcon320 provides ideal batch data collection solutions, the Falcon 325, a wireless data collection terminal, is particularly ideal for data collection throughout the supply chain where real-time access to data is required. Our 2.4 GHz spread spectrum radio terminals have raised the bar in information management data collection, allowing information to be transmitted instantly, in real-time, without the use of wired connections.