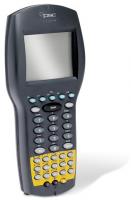 PSC Falcon 335 Wireless Barcode Scanner
Portable Data Terminals.
Fast, accurate, customizable real-time automatic data collection is needed by today s businesses striving for greater efficiency, productivity and cost-effectiveness.
While the Falcon 330 provides ideal batch data collection solutions, the Falcon 335, a wireless data collection terminal, excels in data collection throughout the supply chain where real-time access to data is required. Its internal antenna is protected and its 2.4GHz spread spectrum radio options include Cisco Aironet, Lucent (Agere) Orinoco, Proxim and Symbol radio support for maximum flexibility. The Falcon 335 has raised the bar in RF, real-time data collection technology.
With the international quality standards set by ISO 9000, Computer Integrated Manufacturing (CIM), Just In Time (JIT) and Total Quality Control (TQC), companies are required to have documented procedures and effective automated data capture applications, such as inventory control, work in progress, labor tracking, soars in this receiving-putaway and pick/ship systems. The aptly named Falcon tough environment.