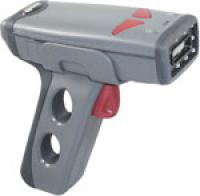 Opticon LG2 Wireless Barcode Scanner
Not only does it read all the common 2 dimensional and matrix barcodes..
The LG2 Reads all common linear and 2D symbologies, Omni-directional decoding Image capture capability RS232, USB or Wedge (PS/2) interface Rugged, lightweight and durable Laser-guided targeting for locating desired bar code Choice of configurations Cordless, store-and-forward Cabled for traditional scanning. The LG2 is truly a revolutionary new imager, Not only does it read all the common, 2 dimensional and matrix bar codes, it also provides omni-directional reading of bar codes, Ranked with the fastest 2D imagers available, the LG2 is great at reading both small, very high-density symbols as well as reading bar codes at extended ranges.The technology employed to achieve this high performance is superior to most bar code imagers, Dual optical paths optimize reading at both near and far distances, 400 MHz, 32-Bit microprocessor operation means super-fast decoding and a 1.3 million pixel CMOS sensor assures quality, high density images, 8 MB of non-volatile on-board memory allows the LG2 to store enormous quantities of data. The LG2 is rugged and built to last. It is designed for rough handling in tough environments and is lightweight enough for use in office or retail application. The cabled imager functions like a traditional scanner RS232, USB or Wedge (PS/2) interfaces are available. The cordless, store-and-forward version operates like a portable data collector, Scanned bar codes are stored in non-volatile memory for later downloading or transmitting to the host; up to 4,000 reads can be stored from a single battery charge. That's enough memory to store an entire shift's data even in intensive scanning environments. A convenient timestamp feature is useful for data logging. The handle can be removed for convenient palm-held use. A version incorporating real time, bluetooth radio operation is also available.