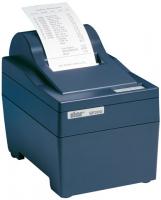 Star SP212 Point of Sale Printer
Basic Low End, Dot Matrix Receipt Printer.
The SP212 series is a two colors printing on select models, with internal power supply and small footprint. The printer Star SP212 benefits include tea bar and auto-cutter versions available with with either single or 2 color printing, print customer and store copies with multiple copy support, free up valuable counter space with the SP212 small footprint. Ideal for pos, customer receipts, restaurants, guest checks, kitchen, credit card authorization terminals, multiple copies, data terminales, service reports, data loggers, scale and many more.