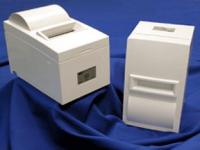 Star SP500 Point of Sale Printer
The SP500 is Benefit in the Mach model to your application.
The SP500 from Star Micronics combines renowed reability and a multitude of high-end feactures into as compact, value-driven solution.it has splash proof cover, Single Color highlight, power switch cover, Internal Universal power supply, Print Graphics, bÁBlack Mark Sensor, Print Multiple Copies(Original+2 CopiesDual Cash drawer driver and More.
The SP500 was created with value, performance, and feactures that will raise the bar for impact printers. A new standard in dot matrix printers has been established with the SP500 series. Ideal for: Ticketing, Kitchen, Data Terminals, Points of service, Food Service, Bar Retail and more.
The SP500 is Benefit in the Mach model to your application Ė Tear bar and auto-cutter versions available.Reduce wait time with its fast output printing 40 columns at 4 lines per second,Race through 58mm paper at 7.5 lines per second,Single Ė color highlight option attracts attention to modifiers or special items on the receipt, Recessed cable connections keep cables securely connected and free of accidental disconnection; keep food and other debris from damaging the cables and Space efficient /optional vertical and wall mount kits available.