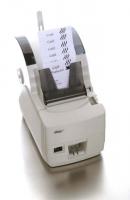 Star TSP1000 Point of Sale Printer
Versatile, High Capacity, Thermal Printer with Receipt / Ticket Stacker.
The TSP 1000 high capacity direct thermal printer offers support of up to 7" diameter paper roll that is perfect for high voulume applications. The integrated ticked/document stacker aids in shorting multiple tickets/documents where batch printing is required.
The TSP1000 is a versatile, high capacity thermal ticket / receipt printer with a unique, built-in ticket stacker and a very high capacity paper roll (7 " - 180mm standard diameter. Standard Unique Ticket Stacker, 2 Colour Print Capability, Large Paper Roll Capacity (180mm) and Fully Adjustable Paper Widths. One piece transparent cover, Two color output available, Variable position high quality black mark sensor and Available housing colors: Putty, Black and Red (as a special order).
The TSP 1000 ideal for tickets (Theatre,Airport/ Airline,Web Pages, Coupons Registries and E-Tickets), Kitchen & Bar Service(Food & Beverage Orders), Warehouse(Stock Orders and Picking Orders), Pos (Receipts).
High speed output - up to 180mm / sec. "Drop-In & Print", Easy Load paper loading.