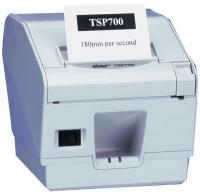 Star TSP700 Barcode Printer
Ultra hight Speed, Thermal Printer.
The super fast TSP700 2- color thermal printer is packaged in a small footprint and si ideal for POS, credit card, restaurant, bar code, hospitality mand kiosk applications.
Bussines can really benefit from the ultra high print speed. The TSP700 eneables your print receipt with logos and bar codes. plus add coupons or rebate certificates while decreasing customer wait time. The TSP700 can store multiple logos or coupons in the printer, allowing you to print a company logo or coupon with every receipt, even when using a serial printer.
To keep the customermoving through the entire transaction quickly, the TSP700 is equipped with automatic cutter capable of full and partial cuts. Two color thermal printing capability makes it ideal for corporate branding, highlighting specials, coupons, customer loyatly and restaurant applications.
Addtional feactures include three adjustable paper widths, internal and external paper loading, dual cash drawer drivers, external power supply, serial parallel, and USB interface options, plus available drivers for whatever platform your application requires. An optional wall or vertical mount bracket lets the TSP700 be placed anywhere it is needed for a space saving option or kiosk application.